U.K. Baby Food Buyer Survey Highlights Importance of Anti Counterfeiting Efforts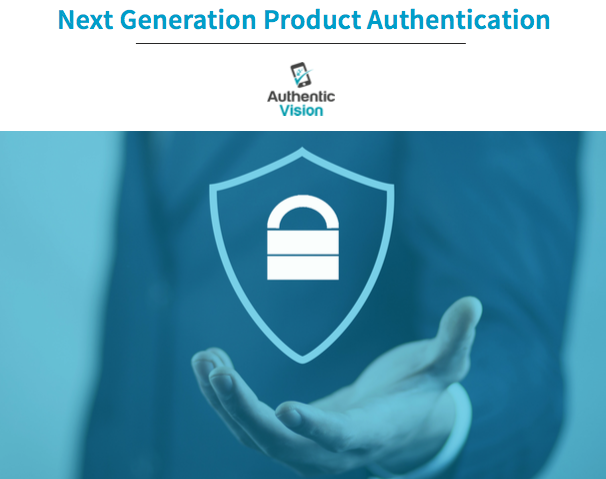 A new survey examining consumer awareness and attitudes toward counterfeiting found that U.K. baby food buyers surveyed choose security over price when making their purchasing decisions. Just over 8 in 10 buyers said they would pay more for products they could check are truly authentic.
Respondents reinforced that sentiment throughout the survey. In another question, 61 percent of buyers said they would be likely or very likely to purchase a product they considered safe and secure over a less expensive one. Additionally, 60 percent of participants said they would be unlikely or very unlikely to buy a brand if it is counterfeit but cheaper.
The study also identified the potential for manufacturer or retailer revenue loss when consumers perceive a risk of counterfeiting in a company's product or inventory. In the survey, 76 percent of respondents would be unlikely or very unlikely to buy from a company accused of counterfeiting or having counterfeit stock.
While purchasing preferences were clear, survey participants showed less awareness of the real-world prevalence of counterfeiting:
Just 18% felt aware or very aware of any issues or problems with food safety in the U.K.
Only 26% were aware or very aware of any issues with counterfeit Foods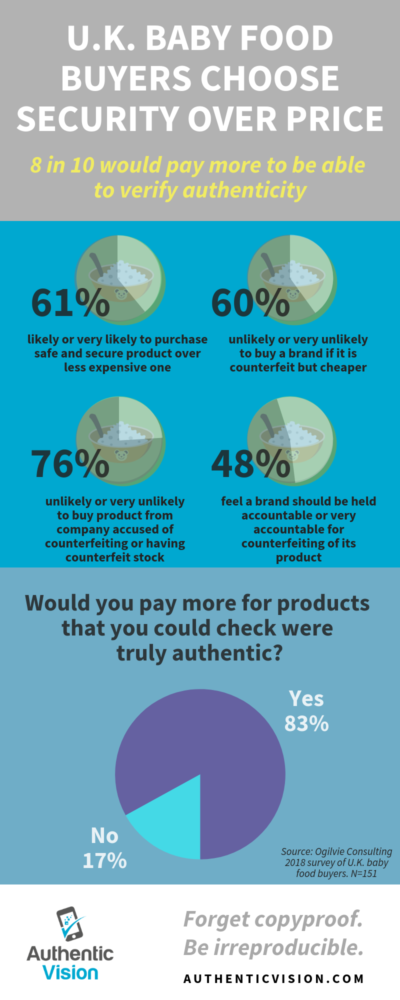 Brand Protection Attitudes
Baby food buyers were somewhat split in their opinions about responsibility for brand protection. Among respondents, 48% believed a brand should be accountable or very accountable for controlling the counterfeit production of its brands.
The survey was conducted by Ogilvie Consulting in 2018 as part of an academic research program. The firm advises Authentic Vision on marketing and communications.
Similar Anti Counterfeiting Opinions in Other Product Sector
While baby food may seem an obvious product for safety and counterfeiting concerns, Authentic Vision in a recent survey identified similar attitudes among U.S. car owners about automotive aftermarket parts. The company's research found that 64 percent of U.S. car owners in its survey agreed or somewhat agreed that they would pay more for aftermarket goods they could verify are truly authentic. Additionally, 76 percent said they will share information with family and friends about a brand or retailer that has a problem with fake goods to make sure they protect themselves and their cars.
Ongoing Need for Anti Counterfeiting Education
Overall, consumers in these studies showed a clear propensity to pay more for goods that can be verified as authentic. However, there is still significant work to do in order to educate and raise awareness about the widespread issue of fake goods and the need for brand protection.